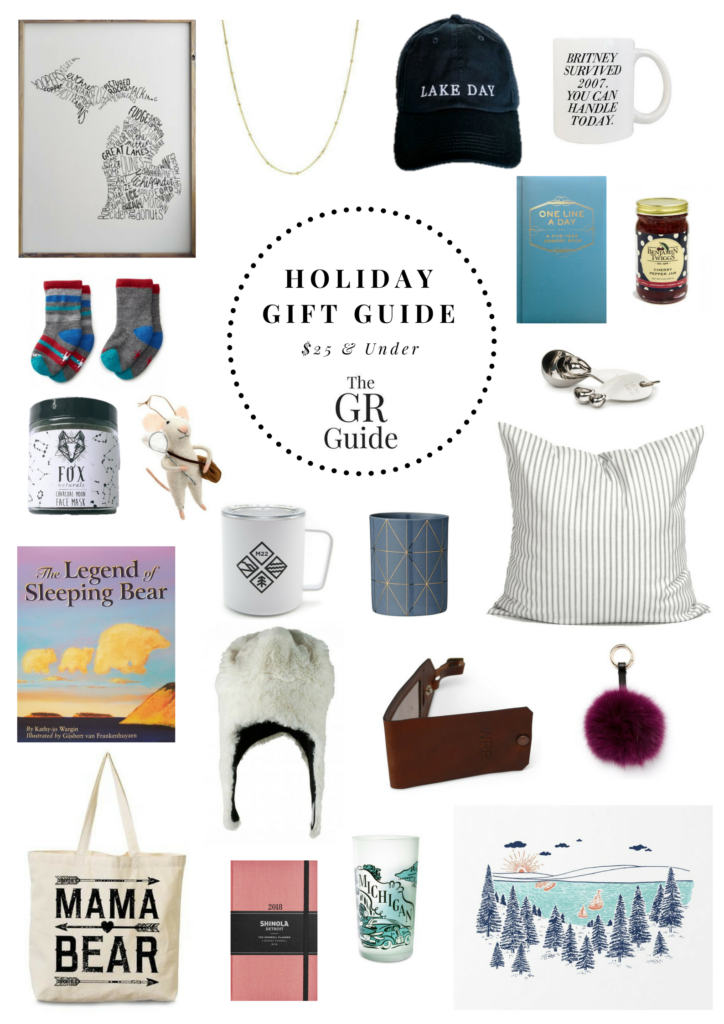 I hope you had a wonderful Thanksgiving! If you're looking to get a head start on your Christmas shopping you're going to love these gift ideas all $25 and under (yes to read that right). The best part is all of these gifts are from stores in the midwest so you can support local businesses and get some pretty amazing gifts. Stay tuned for more gift guides in the next few days.
The Drafting Room print /Lee & Birch necklace / Lake Effect Co. hat /SWEATYWISDOM mug / Gazelle Sports baby socks /Paperdoll Boutique journal /Benjamin Twigs jam / Fox Naturals face mask /Bailey and James ornament /Peppercorn measuring spoons /Enjoy Michigan book /M22 cup /BLCKLAMB votive / Cloth + Cabin pillow cover /Bahnhof Sport winter hat /Brothers Leather luggage tag /DENYM pom /Madison Boutique tote /Shinola journal /Peninsulas frosted glass / Wildship Studio art print
This gift guide is great for stocking stuffers or small gifts for friends and family who also love the midwest. Your boyfriend or brother-in-law will love this Lake Day hat from Lake Effect Co. and best of all they are offering 25% off orders of $50 or more and free shipping until Tuesday, November 28.
For your sister or best friend you can't go wrong with this motivational mug from SWEATYWISDOM.
I have this One Line a Day journal and it's such a fun gift idea for anyone on your list from Paperdoll Boutique. They also have journals for moms, cooks, gardeners, and living well.
For someone who loves traveling check out this luggage tag from Brothers Leather. Spend an extra $10 to get it personalized with their initials for an extra special gift.
Can't find something for your niece or nephew? These socks, winter hat or book would be a perfect gift under the tree.
Your mom will adore this necklace from Lee & Birch, new measuring spoons for the kitchen or a classic striped pillow cover for the house.