What if I told you it was totally possible to have a dinner party with your best friends and not have to worry about the menu, shopping for food, cooking the food, or cleaning up at the end of the night? I know what you're thinking, but with Relish this is a dream come true. Relish, a personal chef service, offers classic personal chef services, private dinner parties, vacation dinners and private cooking lessons to help you become a master in your own kitchen.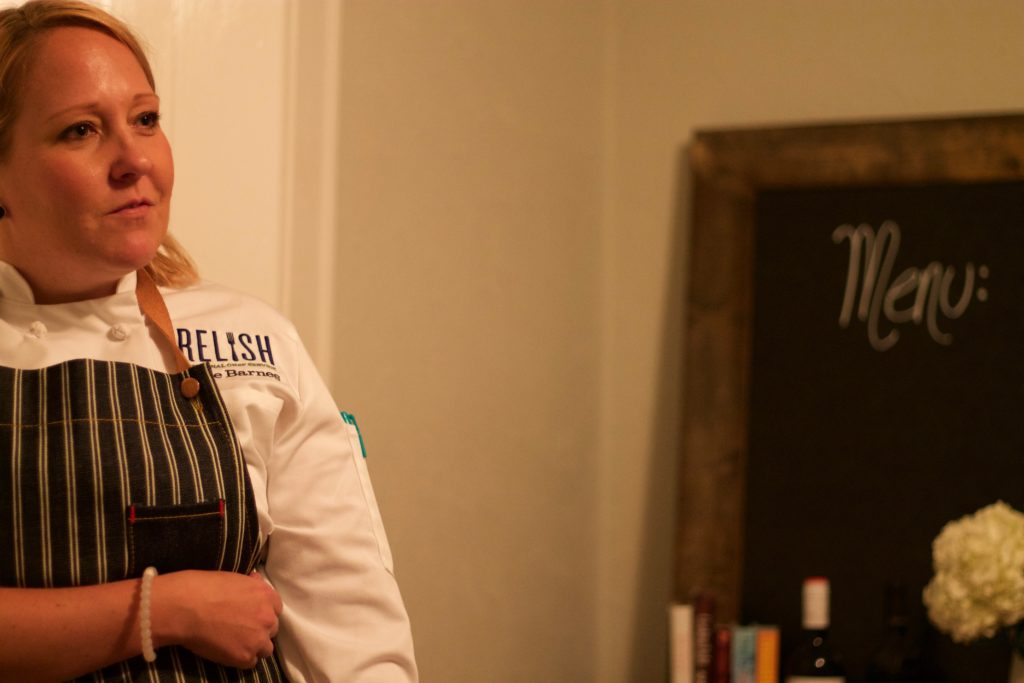 Many of you know I love dining at the newest restaurants or my go-to favorites in Grand Rapids, but there's something special about inviting your friends to your home for a dinner party where we can laugh as loud as we want and kick our shoes off and relax. And as the host I wasn't rushing around my kitchen trying to finish up the entree, plating the food or being the #hostesswiththemostess.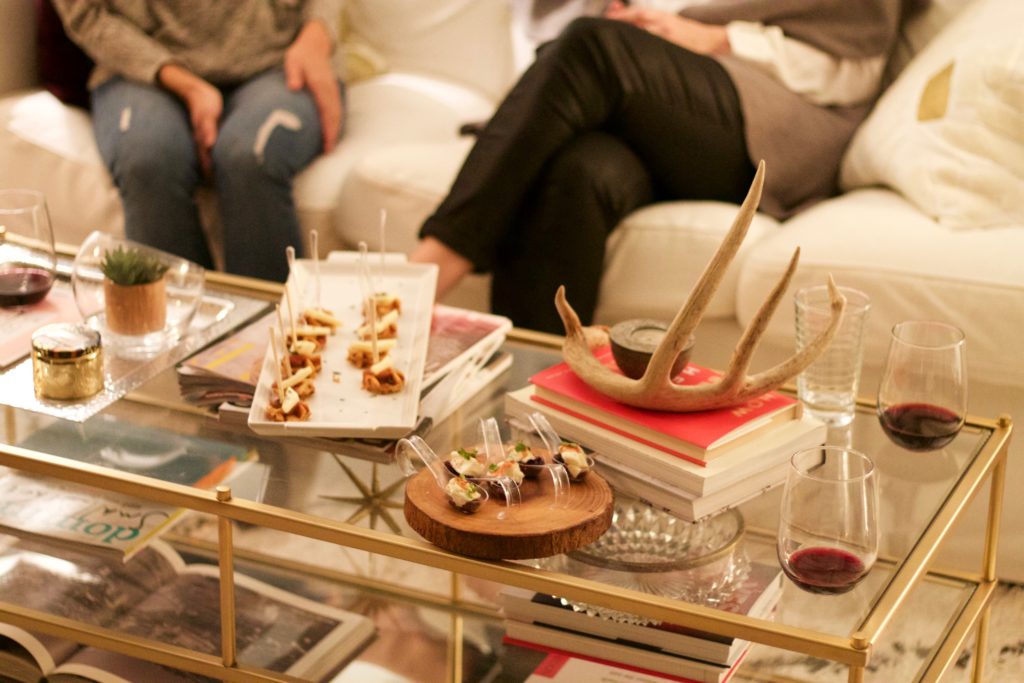 Katie contacted me a few weeks before planning this dinner to go over the menu and any dietary restrictions so she could accommodate all of my guests (round of applause). With a focus on seasonal ingredients our menu was perfect for a girls night and featured items that everyone loved. We started the night with roasted concord grapes, burrata, tomato powder and smoked sea salt (one of the highlights of the night) and also thyme and caramelized onion waffle bites, apple butter, and manchego. We were slightly obsessed with the apple butter and Katie was kind enough to make extra for myself and my guests to take home at the end of the night.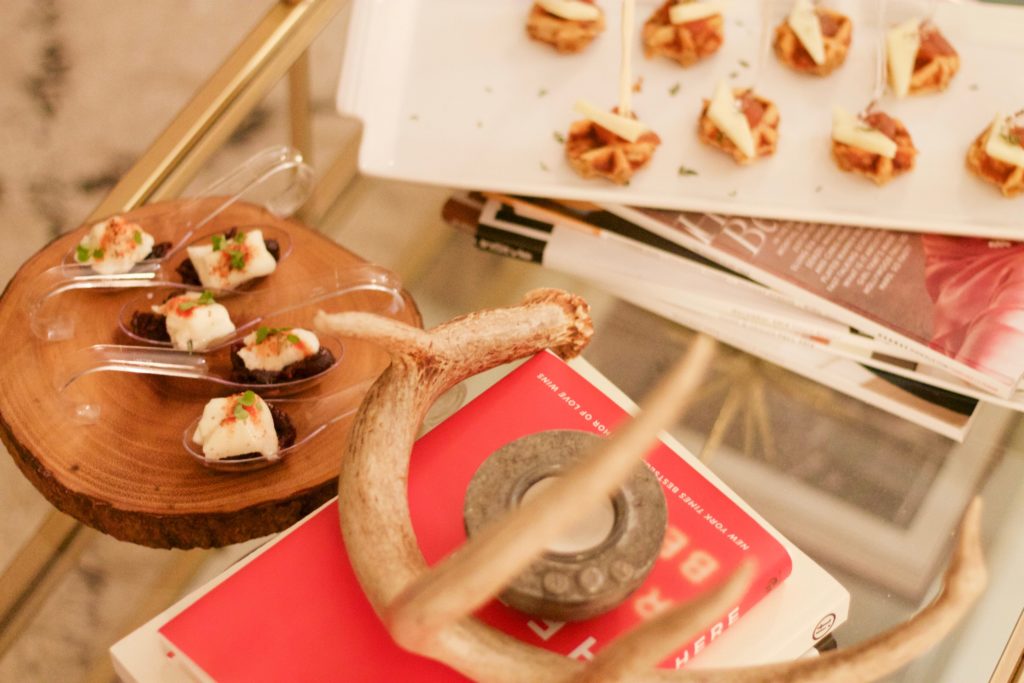 After the appetizers we moved to the dining room for our first course which consisted of sunchoke soup, pomegranate seeds, crispy shallots and herb oil. The use of seasonal ingredients in this dish was perfect for a chilly Fall day and the pomegranate seeds were a sweet addition. Our second course was a shaved brussels sprout salad with dried cherries, pumpkin seeds, honeycrisp apples, idiazabal, and a mustard vinaigrette. I'm a huge fan of shaved brussels sprouts as a salad so this had my name written all over it.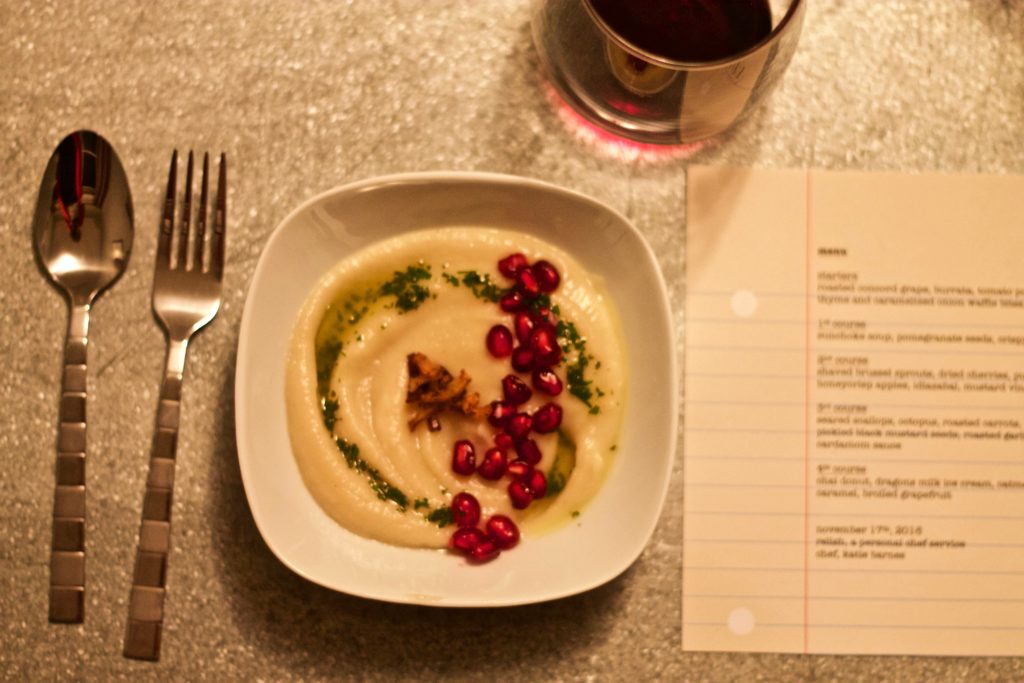 For the main course Katie made seared scallops, octopus, roasted carrots, preserved lemon, pickled black mustard seeds, roasted garlic aioli, cherry and black cardamom sauce. As someone who loves seafood the attention to detail in these ingredients was absolutely amazing.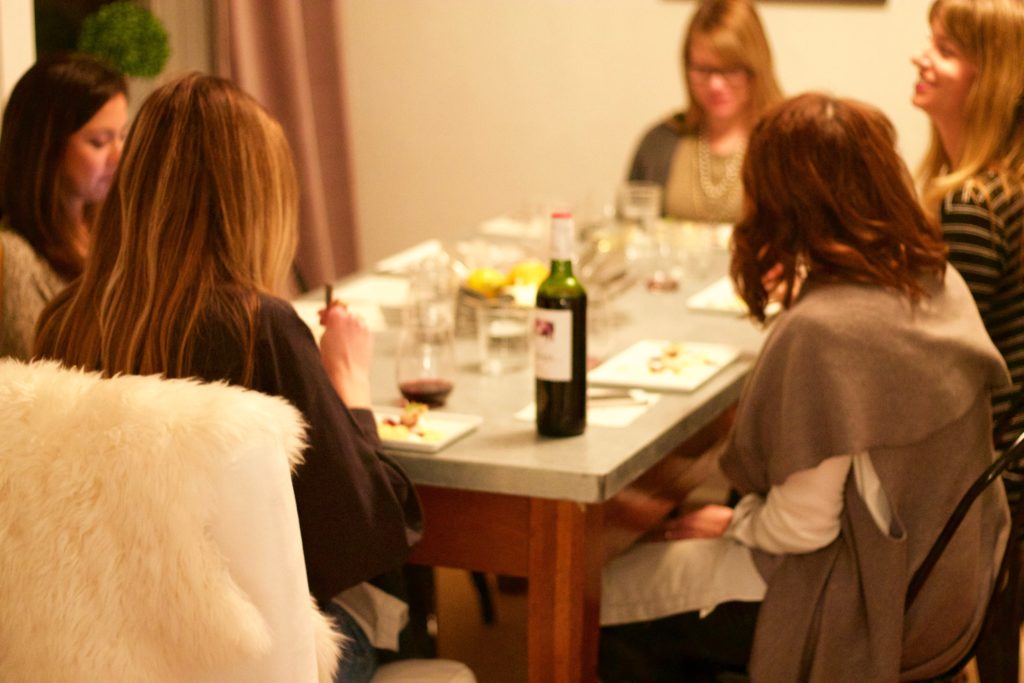 And because no meal is complete without dessert we ended the night with chai donuts served with dragons milk ice cream, oatmeal crumble, miso caramel and broiled grapefruit. As you can probably guess this was our absolute favorite and the perfect ending to our dinner party. A huge thank you to Relish and Katie for an amazing night and incredible food. Are you interested in learning more about Relish? Contact Relish here for more information on their services.