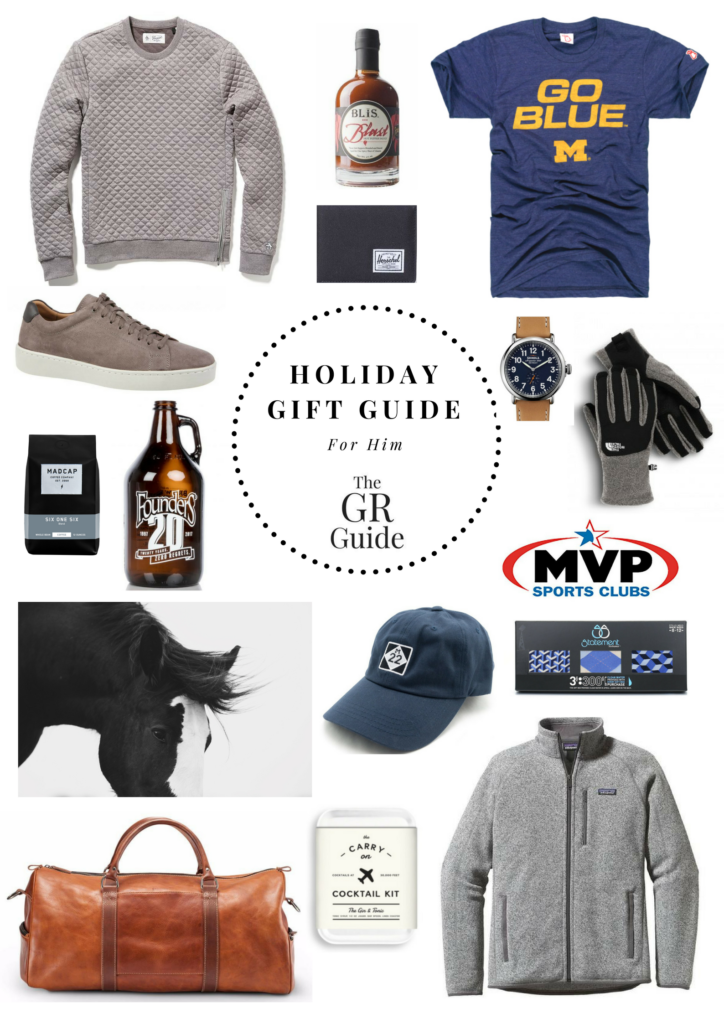 Let's be honest – shopping for guys is tough. Trying to guess what they want or what size they wear isn't easy. Thankfully I've got some great ideas (approved by Cory) for the men in your life. The best part is you can find all of these gifts online via local Michigan stores.
DENYM Original Penguin sweater /Blis blast hot pepper sauce /Frances Jaye Herschel wallet /The Mitten State Michigan shirt /Slate Vince sneaker /Shinola watch / Gazelle Sports North Face gloves /Madcap six one six coffee / Founders growler / MVP Sports Clubs membership /Amy Carroll Brunhild print /M22 hat / boldSOCKS gift box / Brothers Leather Samson duffle / Blcklamb cocktail kit / Bill & Paul's Patagonia better sweater jacket
If your guy loves travel he'll love this cocktail kit and duffle bag for a weekend away. You can even get the duffle bag personalized with his initials.
Your dad will enjoy a new growler for his favorite local beer and a cozy Patagonia better sweater for the chilly weather ahead.
For the guy who loves clothes he'll like this comfy sweater and stylish shoes. If he's a Michigan fan (Go Blue!) this t-shirt is perfect for game days.