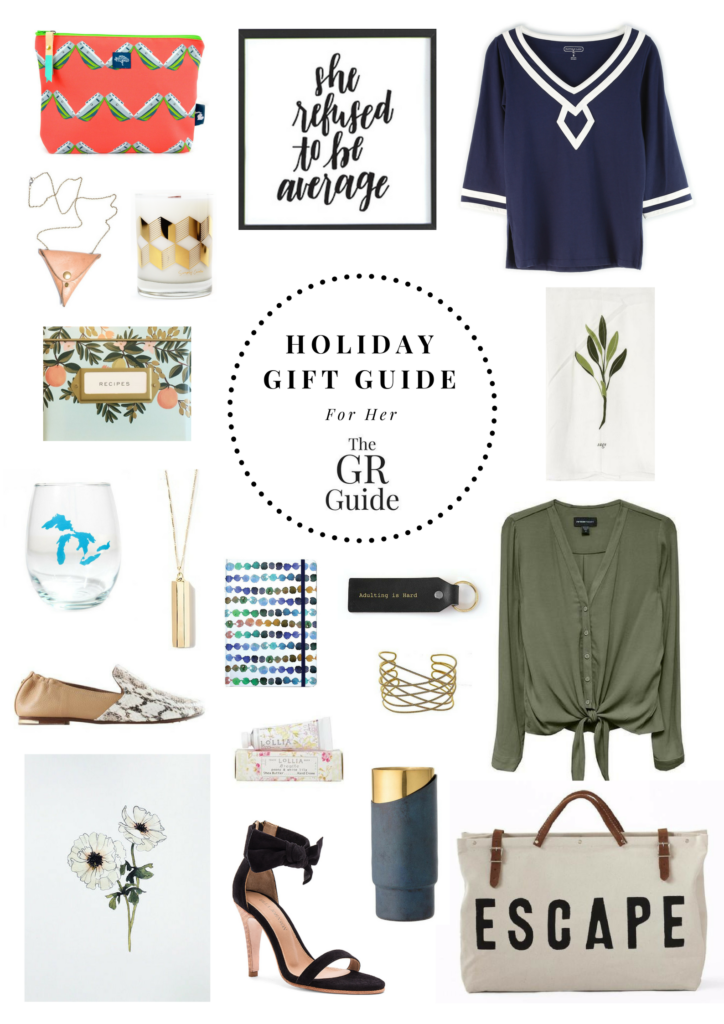 The last gift guide is for the ladies! If you still need gifts for your mom, grandma, sister, or best friend these are some of my top picks from local Michigan boutiques.
Leland Gal ditty bag /6.25 Paper print /Duffield Lane Katie tunic /Parliament the Boutique mojo magic pouch necklace /Simply Curated guava fig 22k gold soy candle /Bailey and James recipe tin /June & December sage towel /High Five Threads wine glass /Cosmetic Hideaways allure gold necklace /Design Design azure dot journal /Ferne Boutique keychain / DENYM top /Craze shoes /Little Luxuries of Mackinac Island Lollia hand creme /Pink Anchor bracelet /Carleigh Courey anemone print /Threads heels /Blcklamb vase / Cloth & Cabin escape bag
For the girl who loves to travel this weekender bag and pouch are perfect for a weekend away. I also use my ditty bag for everyday items like lip gloss, hand sanitizer, lotion, etc.
For the fashionista this top, tunic, heels or shoes would be a great gift under the tree.
Your mom will love this tin for recipes, some amazing hand lotion or a new tea towel for the kitchen.